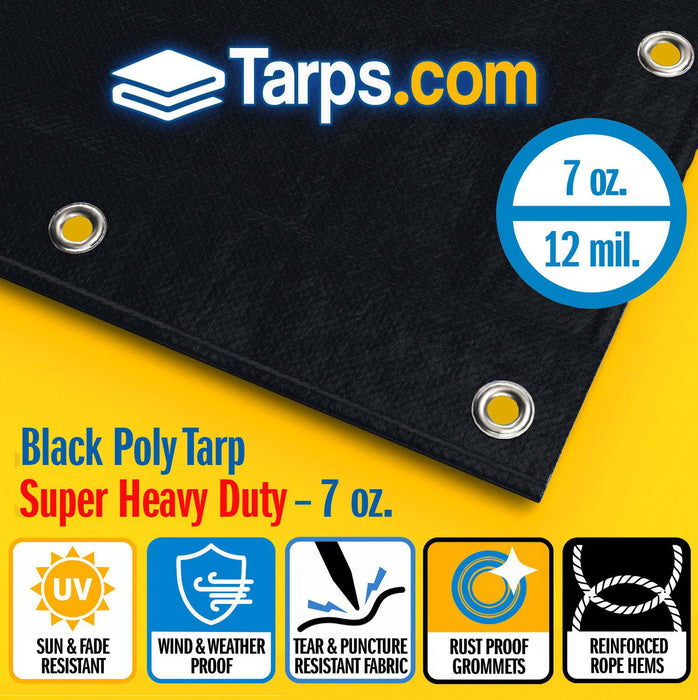 Black Super Heavy Duty Poly Tarps
Original price
$8.92
-
Original price
$588.27
This Super Heavy Duty black tarp is the perfect solution for anyone that needs serious protection from the elements. The 12-mil thickness and a heavier weight of 1200 Denier, 7 ounces per square yard ensures maximum durability and strength. Not only is it tear resistant, acid resistant, but also rot-proof, mildew proof and waterproof. It also features aluminum grommets every 18 inches for easy application to whatever you are covering and rope reinforced edges along with reinforced corners provide extra security that your tarp won't tear off or come loose in strong wind or rain conditions. Tarp.com's Super Heavy Duty Poly is the perfect choice for any commercial or industrial situation. Crafted from a 3-ply material and coated with an extra thick UV laminate, it offers excellent protection against the elements. With 100 percent UV protection and arctic flexibility, you can be sure your projects are safe in even the harshest conditions. Protect what's important to you with this heavy duty tarp today!
7 oz per square yard & 12 mils thick
14 x 14 mesh construction
Waterproof & rotproof
1200 Denier
100% UV protection
Aluminum grommets 18" apart on all 4 sides
Reinforced Corners
Arctic Flexibility

*These tarps finish approximately 6" shorter in each direction, so a 10' x 20' tarp would actually be 9'6" x 19'6".