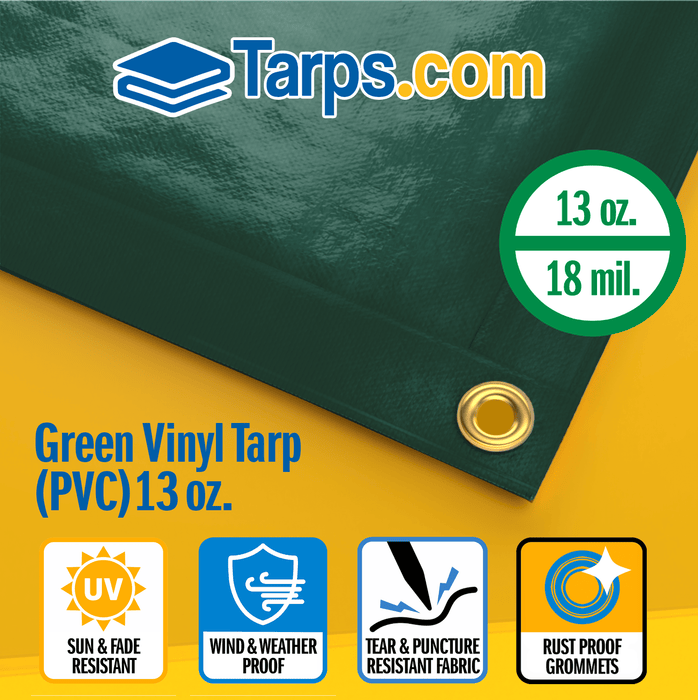 Green Vinyl PVC Tarps - 13 oz
Original price
$26.82
-
Original price
$1,377.59
When you're looking for a rugged tarp that's built to last, you want the highest quality available. That's why we chose these industrial-grade PVC tarps. Their substantial weight of 13 oz per square yard and 18 mil thickness makes them highly durable. A waterproof coating helps keep your goods safe from extreme weather conditions, while the UV protection offers greater resilience against damage caused by sun. Plus, the brass grommets on all sides, double-stitched hems, and heat-sealed seams create a tarp that can handle any tie-down job with ease. 
Whether it's covering machinery, protecting stored materials or keeping cargo on trucks safe, PVC tarps are an excellent choice. Invest in a PVC tarp today and enjoy the peace of mind that comes with knowing your items are protected from the elements.
13 oz per square yard & 18 mils thick
Waterproof & UV resistant
Mildew and rot resistant
Brass Grommets on all 4 sides
Double-stitched hems and heat-sealed seams
*These tarps finish approximately 6" shorter in each direction, so a 10' x 20' tarp would actually be 9'6" x 19'6".