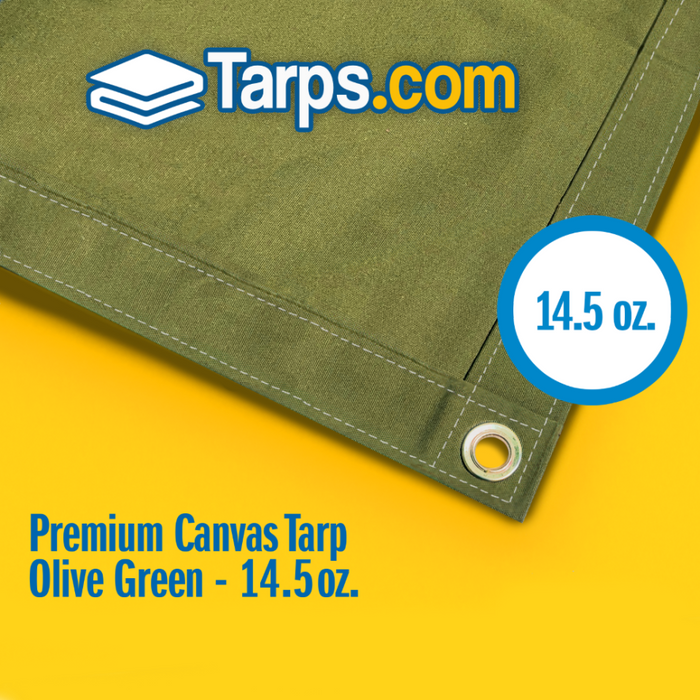 Premium Canvas Tarps - Olive Green
Original price
$26.62
-
Original price
$10,771.20
Tarp.com's Premium Canvas Tarps are the ultimate choice for anyone in need of a reliable and durable tarp. They are made from a 14.5 oz per square yard polyester blend, making them double the strength of traditional cotton canvas tarps.
One of the standout features of our heaviest canvas tarps is their ability to be both waterproof and breathable. Thanks to the silicone treatment, they effectively protect your belongings from rain and snow while also allowing for proper air circulation. This feature helps to prevent any potential condensation issues that could lead to mold or mildew growth.
In addition to their protective properties, our tarps are also colorfast and will not bleed or stain the items they are covering. Thanks to a dry finishing process, they eliminate any strong chemical odors or waxy feel commonly found in other tarps.
Our premium canvas tarps also have a low shrinkage rate, meaning they will maintain their original size and shape even after exposure to extreme temperatures and weather conditions. Traditional cotton canvas tarps can shrink up to 8%, while our premium tarps will only shrink 1% or less.
14.5 oz per square yard Polyester Blend
Silicone treated & dry finished
Waterproof and breathable
Double the strength of traditional cotton canvas
Colorfast - will not bleed or stain

Brass spur grommets every 24" apart
Low shrinkage rate
Sizes above are cut sizes, with the finished size being 6 inches or 3-5% smaller in each direction.
Most sizes are ready to ship, however some larger sizes will take 7-10 business days to produce. Call 

(864) 479-4880 for availability.
*Note: These tarps are water-resistant instead of waterproof at the seams since the sewing process punctures the fabric. A small amount of moisture can come through at those points.